Church on the Island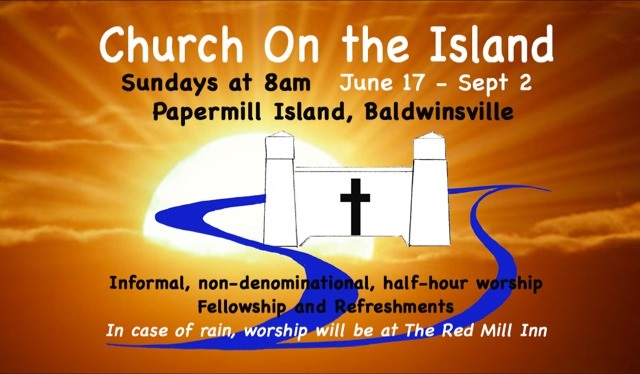 Church on the Island will begin its third season on Sunday, June 17 at 8:00 a.m. and will run through September 2. The informal ½ hour non-denominational worship services have become a popular destination at the Papermill Island Amphitheater in Baldwinsville. Coffee, tea, pastries, and fellowship abound!
Rev. Patricia Walz, recently retired, has been contracted by the Baldwinsville First United Methodist Church to continue to be the Church on the Island coordinator and director. Revs. Walz, Hodge, Mudge, and Ranous will be preaching during the summer as well as various other pastors from the area.
This year's Church on the Island theme is "Love Is the Way". Worship is inclusive and inspiring and offers artistic complements. Parking is available in front of the Red Mill Inn in the public parking area or in the lot next to JessiCakes. Bring your friends and your lawn chairs! Picnic table seating is limited. In case of inclement weather, services will be at the Red Mill Inn.